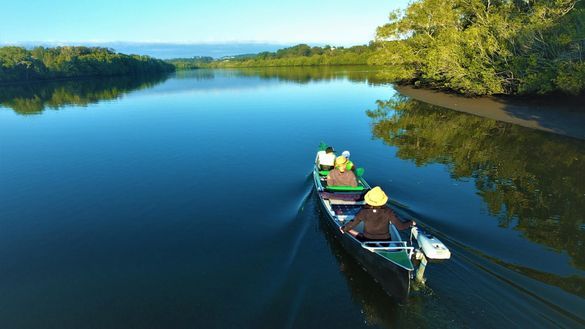 What's New in: FOOD
The Curated Plate launches on the Sunshine Coast
The Curated Plate
, a new four-day destination food festival, is set to make its debut on the Sunshine Coast this year in an event that will redefine regional dining. The festival will be held from 8-11 August and bring together the region's finest produce with the best chefs in the Australian and international dining scene, including Japan's 'best restaurant' chef, Zaiyu Hasegawa. Exclusive culinary events will span the region from the coast to the hinterland with local experiences, including food trails and farm tours, featured in the program. The festival's key themes will centre around local produce and producers, sustainable practices, artisan culture and health and wellness. The recently announced debut program reads like a who's who of the culinary scene, with the best chefs from across Australia and indeed the world converging in region for the four-day celebration of local produce.This will be accompanied by the extended
Destination Series
program from 5-18 August, put together by those who know the region best: the locals.
Restaurant hub booms at The Wharf Mooloolaba
The Wharf Mooloolaba has undergone a major redevelopment, with new restaurants, attractions and retail stores transforming the space in to a hot new food destination. Stage two of the multi-million refurbishment saw burger and dessert bar –
Ninth Street
– open its doors in December 2018, along with traditional Italian restaurant
Il Vento
. The Wharf is also home to the Sunshine Coast's newest live music venue:
The Boston Shaker Bar
, Colombian café
La Finca
and
Fior di Latte Gelateria
. As well as eateries a number of fashion, lifestyle and homewares stores have opened their doors in the precinct, including Gingers, Bedouin Traders, Mikimi Australian Resortwear and Meraki Thread Co.
Sunshine Coast brews news
Founded by two mates who quit their jobs to chase their love of beer,
Your Mates Brewing
is the quintessential Australian dream. The team behind the successful brewery launched their own brewhouse in Warana in late 2018 offering a drool-worthy lunch and dinner menu. They also released a new mid strength lager, called Macca, and their pale ale Larry recently placed in the GABS Hottest 100 Craft Beers of the Year awards.
Meet local producers and discover the Sunshine Coast's amazing fresh produce on the newly launched Farm to Fork Brewery Tour. The tour, run by
Creative Tours and Events
, visits Sunshine Coast Coffee Roastery, The Falls Farm in Mapleton and Maleny Wagyu before ending with a four-course lunch and matched beers at Brouhaha Brewery in Maleny.
What better way to spend a Saturday afternoon than kicking back with a cold beer and gourmet pizza? At
Glass House Brewery
, you can do just that. Over the past few years the Sunshine Coast's craft beer scene has skyrocketed, repositioning the region as a leading brewery destination. At last count, there were 13 breweries in the region. Glass House Brewery is the latest offering and is setting itself apart with a wholesome Italian-style cuisine.
AR-T tea business brewing up awards
Sunshine Coast botanist Monica Naples has turned her talent in to a passion; blending unique loose-leaf tea. Monica's love for crafting the perfect brew saw her launch
AR-T
, selling blends that are flavoursome and environmentally and socially responsible. Two of her blends, the Mint Fusion and Chocolate Mint flavours, recently won silver at the Golden Leaf Awards, Australia's premier tea awards event.
Cat café to open doors on Sunshine Coast
Cat lovers are in for a treat with the opening of the Sunshine Coast's first cat café.
The Cat Retreat Café
works in partnership with the Sunshine Coast Animal refuge to house cats looking for a new home. Exposure to different people
and environments through the café will ensure the cats are well adjusted before they are adopted. At the café diners can get their coffee and cake takeaway to sit in the 'Zen Zone' with the cats, with other options for cat meditation and therapy.
A Touch of Deep Love has launched empowering Women's Retreats in the Sunshine Coast Hinterland.
What's new in: EVENTS
The iconic Eumundi Markets turn 40
On 24 March, 1979 three market stall holders set up shop in Eumundi's CWA Hall. This was the beginning of
The Original Eumundi Markets
. Today the market is a must see for travellers on the Sunshine Coast, with their 'make it, bake it, sew it, grow it' philosophy attracting 1.2 million visitors annually. This year the markets celebrated their milestone 40th birthday.
Maleny Dairies host inaugural Spartan Race Sunshine Coast
Maleny Dairies will provide the backdrop for the inaugural
Spartan Race
Sunshine Coast. The grueling event will be held in the region for the first time from 6-7 April, allowing visitors to test their stamina on the 'world's best' obstacle course. The event will see competitors run through mud, swim through dams and conquer obstacles.
Qld Garden Expo launches 'Sunday Sessions
The
Qld Garden Expo
, held from 12-14 July in Nambour on the Sunshine Coast, will host their first 'Sunday Sessions' at this year's event; a series of hands-on creative and practical workshops led by a qualified horticulturalist on the final day of the event.
South Sydney Rabbitohs vs New Zealand Warriors
Footy fans from interstate and across the ditch will have their eyes on the Sunshine Coast this April as the South Sydney Rabbitohs take on the New Zealand Warriors in their round five clash. The game will be the first time a first-grade rugby league match has been brought to the Sunshine Coast in what is a three-year partnership with the Rabbitohs.
Sunshine Coast Lightning defend title
Sunshine Coast Lightning
will look to defend their back-to-back Suncorp Super Netball titles in 2019, with six games scheduled at the club's newly renovated home ground: The University of the Sunshine Coast Stadium. The first home game is scheduled for Sunday, 12 May.
New women's retreat heads to Hinterland
Self-nourishment, yoga, mindfulness and positive affirmations are at the forefront of an empowering new
Women's Retreat
starting in the Sunshine Coast Hinterland. The full-day and weekend-long retreats will be run by A Touch of Deep Love and include a powerful photo shoot, art classes, guest speakers and a three-course meal under the stars.
What's new in: TRAVEL
New Qantas flights create international connections
The latest service added to the Airport's schedule on 1 April is a daily direct service by Qantas from Sydney, which departs Sydney at 10.30am, arriving Sunshine Coast at 12.05pm, enabling it to connect with 15 Qantas inbound flights that arrive in to Sydney from Europe, Asia, America and New Zealand in the early morning. It will allow for seamless, single-ticket travel to the Sunshine Coast for international visitors. The flight's return departure time from Sunshine Coast is also conveniently scheduled to connect with a wide range of outbound international flights from Sydney.
Sunshine Coast Airport expansion
A new, longer and wider runway currently under construction will enable Sunshine Coast Airport to attract a wide range of direct flights from the Asia Pacific region. The new runway is scheduled to open by the end of 2020. Sunshine Coast Airport already attracts seasonal international flights from Auckland, but the new runway will enable services from South East Asia, as well as other markets in New Zealand and across the Pacific. Countries identified by Sunshine Coast Airport as potential targets for direct services following the inauguration include: China, Fiji, Hong Kong, Indonesia, Japan, Malaysia, New Zealand, Papua New Guinea and the Philippines. The runway will also allow connection with longer-haul Australian cities such as Perth and Darwin, and more regular peak-hour services with major east coast domestic airports.
Pedalling green with EcoTekk Electric Bikes
Exploring a new area by bike is nothing new, but doing it without the need to pedal is.
EcoTekk Electric Bikes
is now servicing the entire Sunshine Coast, offering visitors a chance to explore the region without working up a sweat. With no shortage of tracks to choose from, it's a great way to discover the Sunshine Coast.
RACV Noosa offers guests Car Share hire
Guests staying at
RACV Noosa Resort
now have 24/7 access to a car during their stay. The resort has introduced a Car Share App, allowing guests to simply select the time and date they choose to travel.
What's new in: ATTRACTIONS
Permission to thrill on Aussie World's new ride
Strap yourself in and hold on tight, Aussie World is set to launch a new ride that will challenge even the most daring of thrill seekers. The Typhoon SX 360 will be the first of its kind in Australia, catapulting guests up to 80km per hour on a full inversion at 360°. Aussie World has also renovated the entire façade of The Pub, formerly known at the Ettamogah Pub.
'Beez Knees' mountain bike track open in Caloundra
Tucked away in bushland just 10 minutes' drive from the beach is an attraction of a different kind. The Beez Kneez Black-Diamond Trail is 900m of gravity flow generators, wall rides and jumps, making it the perfect playground for mountain bikers. The new track opened at the end of 2018 and is located in the Caloundra Town Reserve.
Australia's first solar-powered canoe tour
Harness the power of the sun to fuel your next adventure with
Eco River Rides
. The tour company uses innovative solar-powered canoes to take visitors on an unforgettable journey through the Maroochy River Wetlands and is the first of its kind in Australia.
TreeTop Challenge launches
Thrill seekers looking to push their fear of heights to the limit need look no further than the
TreeTop Challenge
. The high-ropes adventure in the Sunshine Coast's iconic Big Pineapple precinct opened in March 2019 and includes more than 100 activities across a 2km course, including a 120m long zipline.
Mary Valley Rattler introduces new services
The
Mary Valley Rattler
has been restored to its former glory, relaunching to the public in late 2018 to take passengers back in time on scenic journeys through the Mary Valley. New to the Rattler this year is the introduction of 'Retro Fridays': a journey on board their 1960's Silver Bullet railmotor with complimentary breakfast or lunch at the Platform No. 1 Café. The Rattler also runs a Picnic Train on Thursdays.
Fly above the Glass House Mountains with Paradise Seaplanes
Paradise Seaplanes
, which takes off from the stunning Maroochy River, has added a new flight to their repertoire: The Noosa to Glass House Adventure. The new 60-minute joy flight will take passengers from the Noosa beaches to the majestic Glass House Mountains.
Ocean View Heli takes off to Flame Hill Vineyard
Flame Hill Vineyard is a Sunshine coast institution producing fine wines, and fine dining, with scenic views over the coastline. In a Sunshine Coast first
Ocean View Heli
has partnered with Flame Hill, offering visitors a three-hour 'Fly 'n' Dine' journey taking them by chopper to the vineyard for lunch.
The Events Centre Caloundra Upgrade
One of the Sunshine Coast's premier live production venues,
The Events Centre Caloundra
, is currently undergoing a major renovation. The renovation will include a new covered entry, an upgrade to the air-conditioning, box office, foyer and main theatre. The Centre will reopen in April 2019, providing a first-class facility for live shows on the Sunshine Coast.
Doors set to open on new $8 million convention centre
In a move that will reposition the Sunshine Coast as a leading business events destination,
Novotel Twin Waters Resort
will this May open the doors to their new $8 million convention centre. The facility, combined with the resort's existing Wandiny Pavilion, will bring the centre's overall capacity to 3,400 delegates. The new centre is already set to host the 2019 Queensland Tourism Awards in November 2019.
Ladies only Sunshine Coast tours launch
Looking to plan the ultimate girl's trip?
CC Tours and Travel
offers ladies only foodie experiences on the Sunshine Coast, allowing you to eat, drink and shop until your heart's content. The fully escorted tours include private transfers, first class dining and handcrafted experiences, including 'Foodie and Furnishings' and 'Hinterland Highs' tours.
The Big Pineapple's $150 million renewal project
Work has started on restoring the Sunshine Coast's iconic
The Big Pineapple
to its former glory through a $150 million renewal project. Work includes the new Treetop Challenge high ropes adventure course, water park, major events space, onsite accommodation and $60 million agribusiness precinct.
Triballink Activity Centre opens in Mapleton
Visitors are encouraged to learn about Indigenous culture at the newly opened
Triballink Activity Centre
. Run by Goombuckar Creations, Triballink offers a Dreamtime Immersion with a night walk through the rainforest, local Dreamtime storytelling and bush tucker, as well as a night time Aboriginal dance and dinner immersion experience. Triballink is located at the Queensland Conference and Camping Centre in Mapleton.
Croc Tours to Australia Zoo
Croc Tours is a locally owned company that is passionate about wildlife conservation and specialises in small group tours to Australia Zoo from the Sunshine Coast and Brisbane. Croc Tours' vehicles are modern, fully air conditioned with plenty of leg room and are designed for total comfort.
What's new in: ACCOMMODATION
New Mary Valley 'Ride and Relax' Escape
Amamoor Lodge
is now offering the ultimate Mary Valley escape with a 'Ride and Relax' package allowing visitors to explore the region on board the Mary Valley Rattler before retiring to the Lodge to unwind. The package includes a 'slow food' dinner for two with a bottle of wine at Amamoor Lodge, two return tickets on the Rattler, boutique accommodation and a full breakfast.
Alex Beach Cabins and Tourist Park revamp
Family-owned
Alex Beach Cabins and Tourist Park
has been a staple of Alexandra Headlands since 1974. The Park recently underwent a major renovation with a new luxury resort-style pool, playground and fully refurbished accommodation options. Located less than 200m from the beach, it's the perfect family escape.
Makepeace Island's makeover
Makepeace Island
, Sir Richard Branson's heart-shaped home on the Sunshine Coast, has reopened its doors to the public after an extensive makeover to the resort's facilities. The private island on Noosa River offers a unique fusion of luxury and wilderness, creating the ultimate escape just minutes from Noosa. The makeover was overseen by acclaimed interior designer June Robinson Scott, who has previously been commissioned for the interior design of Necker Island and The Branson Estate.
At one with nature
Get back in touch with nature at
Mapleton Springs B&B
. The new offering in the hinterland town of Mapleton offers expansive views over rolling hills, an infinity pool, spa and delicious cooked breakfast. The owners are also animal carers, so you'll often find rescue joeys, as well as an abundance of local wildlife, around the property.
Glamp on the wild side
Nestled on 65 acres of natural bushland, with a 500m beachfront on Noosa River,
Habitat Noosa
is a wilderness experience like no other. The world-class eco-facility is home to a large eastern grey kangaroo population and offers guests a range of accommodation, dining and tour options. The Everglades Ecocamp relaunched this year having been built on an existing campground. It offers paperbark tents, cabins and wilderness tents for guests as well as powered or unpowered sites for campers, motorhomes and RVs. Habitat Noosa is located just five minutes' boat ride from Noosa Everglades, or a 25-minute drive to Noosa Heads.