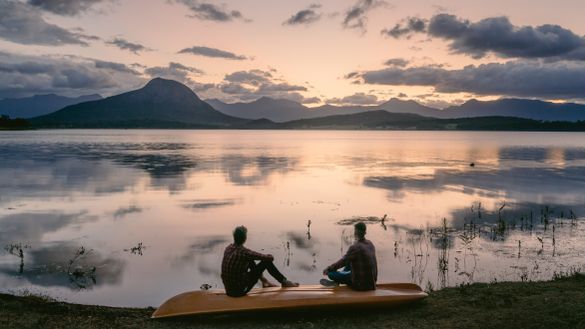 Known for its breathtaking scenery, soaring peaks, local produce, vibrant arts and crafts plus expansive bushwalking and rainforest tracks, the Scenic Rim is only 90 minutes from Brisbane and all of it falls within 150km of Brisbane's city centre.
With plenty of family-friendly destinations and opportunities to experience some of Australia's most gorgeous views, it's an ideal spot to escape to with the kids.
Use this
Google Map
we've created to help guide you.
Before you put the pedal to the metal, stock up your road trip bag with sweet and savoury treats from
Jocelyn's Provisions
, or grab a weekend picnic hamper from
Wild Canary
to devour on your journey.
Day 1 First stop - Brunch with a fluffy friend at
Mountview Alpaca Farm
A road trip where you get to have lunch with alpacas? Alpaca my bag! Conveniently located within the grounds of O'Reilly's
Canungra Valley Vineyards
, Mountview Alpaca Farm lets you feed alpacas and walk them around the vineyard grounds. While you share time with your new fluffy friends, indulge with a fine bottle of wine, a stone-baked pizza or a picnic basket while enjoying the relaxed country setting next to the scenic Canungra Creek.
Noon - Pick up sweet treats from
Lemon Lovers Gelato
Time to head up to Tamborine Mountain and treat the kids (and yourselves) to a little sweetness from Lemon Lovers Gelato. Keep an eye out as you drive around town. Park the car and wander down Long Road to explore the art, craft, gift and knick-knack stores along Gallery Walk.
Afternoon - Look at the stars … inside a cave
Take a tour through the rainforest and into the caves with
Glowworms Cave Tours
, which will resume on 13th June. The presentation cave features realistic stalagmites and stalactites, designed to mimic the natural environment of these rare glow worms. Learn about their fascinating biology as the kids delve into a dark and mysterious experience, lit up by thousands of tiny creatures glowing on the tunnel walls like a starlit night sky.
Evening - Watch a glorious sunset
Before you finish up the day, this stunning view is essential. Take a blanket, camera, anything you need and set the family up at Hang Gliders Lookout or Rotary Lookout on Tamborine Mountain for a breathtaking sunset. Watch the hang gliders launch off the side of the mountain and see them floating above you as the sky burns from orange to black.
Night -
Clandulla Cottages and Farmstay
Nestled in some of the Scenic Rim Region's most beautiful countryside, these beautiful self-containing cottages provide the ultimate farm stay experience. Get involved in farm activities, hand feed and cuddle friendly animals and toast marshmallows around the campfire at the end of the day. Relax, listen to the bird calls, and enjoy the tranquillity of the surroundings (accommodation can be booked from 12 June).
Day 2 Rise and shine – Venture into
Thunderbird Park
Rejoice parents, the beloved Thunderbird Park is set to open on 13 June. Here, kids can fossick in the world's largest thunderegg mine and unearth these amazing structures left over from 200-million-year-old lava flows. Dig deep with the kids and see how many you can find – whatever you discover is yours to keep as long as it fits in your bucket. This one's fun for parents as well. Unleash your inner child as you slice open that thunderegg to see what treasure may await inside.
Scared of heights? How does relying on just a harness across more than 100 challenges in the
Treetop Challenge
sound? Hang from trees, climb the ladders, balance on bridges, navigate through suspended tunnels. The challenge is open to kids over the age of 7, so if you have a little adrenaline junkie at home, it's time to get their hearts racing.
Lunch –
The Overflow Estate
Time to put an end to a whole morning's worth of adventure and find a lunch place. The scenery alone from Beaudesert to Boonah is breathtaking enough, and the Overflow Estate's divine drops are well worth the drive (just for mum and dad, of course). Set on a peninsula on the edge of Lake Wyaralong, enjoy the expansive view while grazing from the simple menu (Towri sheep cheese and Summer Land Camel ice cream included) and ponder why you don't own a winery in the Scenic Rim.
Afternoon - Pick up baked goodies from
Arthur Clive's Family Bakehouse
Owners the Pennell family have been baking in the Scenic Rim and surrounds since the 1930s, with current baker Aidan Pennell's grandfather starting the original business in Boonah. Grab some of these delicious old-styled baked goods with a modern twist. We recommend the wild fermented sourdoughs of Instagram fame for mum and dad, and the kids might want to try the Cherry Ripe Slice.
Final stop - A picnic at Lake Moogerah
Before you head back to the city, a picnic at Lake Moogerah with picture-postcard views from the lookout is essential. It's a popular spot for boating, bushwalking and fishing enthusiasts (licence required). Lay down the picnic blanket, cover it with your recently purchased baked goodies, and take some time to chill before hitting the road. If you're early enough, maybe the kids can take a dip in the swimming area.
An hour or so later, you'll be back in the Brisbane CBD after traveling along the M1. Time to end the adventure and get back to reality, refreshed and ready for another week.