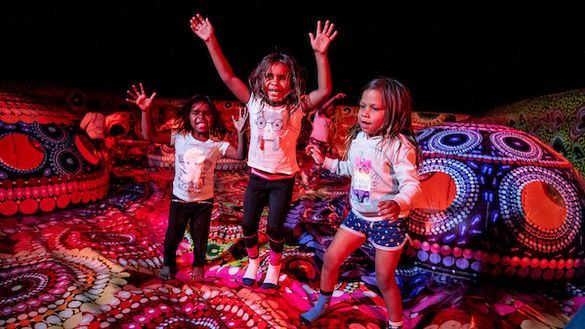 Looking for an excuse to visit the Northern Territory this year? From the Top End down to the Red Centre, the Territory is home to a rich program of events and festivals. Take in the lights at Parrtjima – A Festival in Light, celebrating the oldest continuous living culture on Earth, or feast on delicious traditional food at A Taste of Kakadu. If you're a music fan, be sure to check out BLACKEN Festival in Alice Springs, and head to Darwin for BASSINTHEGRASS to see some of the biggest names in Australian music. Experience the Territory's quirky side at the Alice Springs Beanie Festival or get your heart rate pumping as part of the Australian Outback Marathon. From cultural experiences to historical events, there's something for everyone to enjoy.
Outback Cycling Easter in the Alice
Alice Springs, 19 – 22 April 2019
Explore Alice on two wheels as part of the Outback Cycling Easter in the Alice, a three-day stage mountain bike race designed to let you take in all the wonder of the Red Centre while satisfying your sporting needs. Ride the amazing flowing single-track under a blanket of deep blue sky while taking in the magnificent views of the MacDonnell Ranges. The route covers 130km of awe-inspiring landscapes with a shorter 70km route available for those keen on a gentler ride.
Outback Cycling Easter in the Alice
Aileron Bush Weekend
Alice Springs, 20-21 April 2019
A wacky weekend where women toss their boots and the locals race donkeys over Easter? Count us in! Perched 130 kilometres north of Alice Springs and a lifetime away from convention, witness cowboys and cowgirls battle it out in one of the country's most extreme rodeo events. Snatch pole position ringside at the Junior and Open Gymkhana on the Saturday morning, experience the notorious Mexican donkey race, and kick your heels up during the Ladies Boot Throwing Competition (sharp stilettos are discouraged). There's also tug-of-war, the Easter Bunny, bush dancing, DJ, plus plenty of camping. Staged in Aileron, home to the Big Aboriginal Statue - a steel, wire and cement sculpture of the Anmatjere Man with woman and child – this is your ultimate bush-bashing adventure.
Aileron Bush Weekend
Territory Tribute: Overture to Peace
Darwin, 24 April 2019
On the eve of ANZAC Day, acclaimed artists, musicians, Aboriginal performers and Defence Service Members will converge on Darwin for a spectacular free live concert. Directed by Australian musician and creative director John Foreman OAM and featuring performances from Human Nature, Dami Im, Marina Prior and the Darwin Symphony Orchestra, this concert promises to be a unique and emotive ceremonial event taking audiences on a journey to learn and appreciate Australian military history.
Overture to Peace
Territory Tribute: ANZAC Day Dawn Service and ANZAC Day Parade
Darwin, 25 April 2019
Hear the bugle sound in the dawn light and pay respect to serving Defence Personnel past and present at Darwin's annual ANZAC Day Dawn Service – a big event on the Top End social calendar. After the service, join the crowd of thousands to line the street and see Service Personnel and Veterans march or visit one of the region's military museums or historical sites.
ANZAC Day Dawn Service and ANZAC Day Parade
Territory Tribute: World's Greatest Two-Up School
Darwin, 25 April 2019
The World's Greatest Two-Up School is sure to be an event to remember, with the community coming together to partake in this unique Australian tradition on the only day of the year it's legal. Join the crowds for rousing calls of "come in spinner!" and try your luck at the 'dance' of two pennies.
World's Greatest Two-Up School
BLACKEN Festival
Alice Springs, 4-5 May 2019
Alice Cooper, eat your heart out. The Northern Territory is poised to deliver heavy metal, Alice Springs-style. One of the most sought-after events on the national heavy metal music scene, BLACKEN is moving to a new location this year at the mouth of the ancient N'Dhala Gorge. This colourful camping festival attracts more than 30 bands performing across two stages. The fierce line-up includes Southeast Desert Metal, Hell Machine and BADMATHS. Want more nocturnal activities with a little less head banging? Head to Alice Springs Desert Park, where 10 minutes from the city centre you'll encounter one of the world's largest nocturnal desert houses. The wildlife here, such as the bilby and mala, may be as hairy as your average rocker but slightly more coy, and we guarantee it's your heart strings, not guitar strings, which they'll tug at.
BLACKEN Festival
A Taste of Kakadu
Kakadu, 10-19 May 2019
A food festival 65,000 years in the making? Sounds good enough to eat. The World Heritage-listed Kakadu National Park is bursting with abundance of fresh food including the Kakadu plum, which has been identified as the single natural food source with the highest levels of vitamin C on the planet. But don't just take our word for it. Embrace this 10-day program of locally-inspired food exploration and events. Indulge all your senses with pop-up dining experiences, traditional ground oven feasts, handcrafted menus from celebrity chefs, forage walks with traditional owners, brunch, canape cruises on bird-lined billabongs, and ancestral stories and cultural workshops. Feast on everything from barramundi
to ground oven buffalo, learn modern cooking twists on ancient traditions, and simply come back down to Earth, Territory style. We've saved you a seat around the fire.
A Taste of Kakadu
BASSINTHEGRASS Music Festival
Darwin, 19 May 2019
With a new seaside location and twelve of the hottest hours in Australian music, this year's BASSINTHEGRASS is set to be the biggest and best Darwin has ever seen. Think back-to-back beats, laid-back vibes and a killer line-up of more than 18 artists, including ARIA winners and some of the biggest names in Aussie music. Australia, you're going to hear Darwin roar! If you want more grunt as part of your Darwin visit, be sure to visit Crocosaurus Cove, the largest exhibition of Australian reptiles in the world with some of the largest Northern Territory saltwater crocodiles on display. From rock to croc, Darwin's got the lot.
BASSINTHEGRASS Music Festival
Garrmalang Festival
Darwin, 23-26 May 2019
Join indigenous Artistic Director Gary Lang in Darwin on a jaunty journey which showcases Aboriginal and Torres Strait Islander artists, dancers, musicians and performers from remote communities. Garrmalang Festival is the only festival in the Northern Territory exclusively showcasing Aboriginal and Torres Strait Islander talent. Gather at the Darwin Entertainment centre on the Garrmalang land of the local Larrakia people to share stages, stories, forums and songs.
Garrmalang Festival
Uluru Camel Cup
Uluru, 24-25 May 2019
All class and no grass – it's like the Melbourne Cup, with some extra humps thrown in. Visitors can enjoy all the racing action and fashion you'd expect from a trackside event, but against a stunning desert backdrop in Australia's Red Centre. While camels may have a reputation as dedicated 'ships of the desert', these ornery creatures are not short on personality, making for fantastic spectator viewing. On and off the track there's lots to see with entertainment including stock whip demonstrations, wheel barrow races, kids' sack race and even a camel dung throwing competition.
Uluru Camel Cup
Territory Taste Festival
Darwin, 25-26 May 2019
Join Manu Feildel and some of the country's most notable gourmands to sample the best food and wine in the Top End at the Territory Taste Festival. For one weekend, Northern Territory producers, farmers, growers, suppliers and bush harvest experts showcase the culinary delights of the NT. Guests are set to enjoy more than 40 food and wine stalls, masterclasses, demonstrations, a producers' pavilion and live music throughout the weekend. The event promises to be bigger and better in 2019, moving to a brand-new location at the Darwin Cruise Shop Terminal and adjoining Fort Hill Wharf.
Territory Taste Festival
Barunga Festival
Arnhem Land, 7-9 June 2019
In ancient Arnhem Land, the birthplace of Yothu Yindi front man Mandawuy Yunupingu, the Barunga Festival has etched itself onto the national festival calendar, celebrating a long and proud tradition of storytelling and celebrating the culture of its remote Aboriginal people. This annual festival attracts as many as 4,000 visitors from around the world, who camp in the Katherine region to experience a pumping program of music, sport, and traditional arts and cultural activities from remote Northern Territory communities. The event takes place on the land of the traditional Barunga owners, just over the border in Arnhem Land. In 1988, Aboriginal leaders presented Australian Prime Minister Bob Hawke with the Barunga Statement, calling for a treaty, which inspired Yothu Yindi to write the worldwide hit "Treaty". These days, the community celebrates through football, basketball, softball, contemporary and traditional music, and arts and culture. There's also the Barunga Art Prize, a Story Telling Circle and an International Didgeridoo Competition. Just follow the harmonious hum of one of the oldest instruments in the world.
Barunga Festival
Tatts Finke Desert Race
Alice Springs, 7-10 June 2019
What happens when the fastest and richest off-road race in Australia meets the oldest river system in the world? Enter, the Tatts Finke Desert Race. This multi-terrain, two-day race attracts more than 600 competitors racing over a 460-kilometre course through desert country from Alice Springs to the Finke River in the tiny Aboriginal Aputula Community. Considered one of the most difficult off-road races, competitors in their bikes, cars and buggies vie for the King of the Desert Trophy. From red dust and dry river beds, sand and spinifex, to this rich river system believed to date as far back as 340 million years, whether you are a participant or spectator, this is one race worth burning a bit of rubber for.
Tatts Finke Desert Race
Easy Bet Darwin Triple Crown
Darwin, 14-16 June 2019
When diesel meets Darwin you end up with rev-head heaven. Lauded as Darwin's biggest party, the event combines the best of Australian car racing, with a packed schedule of activities both on and off the track. From cool concerts to the Hot Wheels Stunz Inc Team, expect three days of adrenalin and action perfect for mates escapes to family fun and everything in between.
Darwin Triple Crown
Alice Springs Beanie Festival
Alice Springs, 28 June – 1 July 2019
Hats off to Alice Springs, the Beanie Capital of the World. Now in its 22nd year, the Alice Springs Beanie Festival brings together more than 6,500 handmade beanies from around the world, in the Weaving the Magic exhibition which encourages you to try and buy. But there's more than just beanies. This wacky weekend includes art exhibitions, textile workshops, live entertainment, homemade food and local Aboriginal culture. Head to Beanie Central for cultural and creative workshops, or for some kangaroo tail roasted on the campfire.
Alice Springs Beanie Festival
Territory Day
Territory-wide, 1 July 2019
The Northern Territory celebrates 41 years of self-government on 1 July with a host of events from Darwin, to Katherine, Tennant Creek, Alice Springs and beyond. And it has many reasons to celebrate. Measuring a massive 1,349,129 square kilometres, the Northern Territory accounts for 17.5 per cent of Australia's total land mass and the Top End boasts a coastline that extends more than 13,500 kilometres. 2018 saw the Territory receive a host of accolades. The Red Centre was crowned number four in Lonely Planet's prestigious Best in Travel List, while Litchfield National Park was recognised as a best new opening. Flock to Darwin on Territory Day and witness this colourful capital burst into light in a rainbow of rockets, bangers and Roman candles. Watch fireworks explode over Timor Sea from Mindil Beach, home to the best beach markets in the country, and see what makes the Territory so damn fine.
Territory Day
Darwin Fringe Festival
Darwin, 5-14 July 2019
Blend Darwin's culturally diverse population with its edgy and eclectic vibe, and you get the Darwin Fringe Festival. A vibrant 10-day event celebrating creativity and diversity, expect music, theatre, dance, comedy and visual arts. Organisers say it celebrates every genre you can think of (and a few that might be made up) which makes this community arts festival the hottest on the calendar, in the middle of our deliciously dry winter weather.
Darwin Fringe Festival
Apex Camel Cup
Alice Springs, 13 July 2019
Fun fact: around 200,000 wild one-hump camels roam the Northern Territory. Another fun fact: Alice Springs boasts the only purpose-built camel racing venue in the Southern Hemisphere. To discover more fun facts and dromedary delights, head to the Apex Camel Cup. You'll encounter plenty of camels and characters at this one-day event, including cameleer Neil Waters, who first rode in the cup in 1978 and is still going strong over 40 years later.
Apex Camel Cup
Darwin Lions Beer Can Regatta
Darwin, 14 July 2019
The Darwin Lion's Beer Can Regatta is one of Australia's weirdest events. Contestants float and flounder off Mindil Beach in homemade boats, made of beer cans, plastic bottles and even the odd carton. Launched in 1974, it was first floated in a bid to clean up rubbish around Darwin. Now the event raises money for a good cause, with more than $150,000 donated to the Combined Lions Clubs of Darwin. We'll drink to that.
Darwin Lions Beer Can Regatta
Australian Outback Marathon
Uluru & surrounds, 27 July 2019
We reckon it's Australia's most scenic marathon, with runners treated to incredible views of both Uluru and Kata Tjuta. Staged in the middle of the cool, dry season, there are several courses including the full and half marathon, plus an 11-kilometre and six-kilometre fun run. Spectators are invited to line the course and cheer on the runners, and there may even be a wine or two at the end.
Australian Outback Marathon
Desert Harmony Festival
Tennant Creek, 2-5 August 2019
Desert Harmony Festival is turning the big 3-0 in 2019! Arguably Australia's most remote festival, head to Tennant Creek for five days of red dirt, blankets of stars and desert culture. Hosted by Barkly Regional Arts Centre and held on the lands of the Warumungu people, this year's theme is 'My Arts, My Culture.' Attracting interstate visitors as well as Aboriginal people, the festival immerses visitors in the arts with workshops, adventure tours, sports and cultural activities available. Visitors can also apply to "Go Walkabout" and volunteer their time in return for an experience of a lifetime. From a bush ride up the highway to Outback glamping and Aboriginal culture immersion, this is a true-blue festival for those who want to write their own desert story.
Desert Harmony Festival
Darwin Festival
Darwin, 8-25 August 2019
The Darwin Festival is an 18-day celebration of music, theatre, visual art, dance and cabaret. Flock to the Festival Lounge or encounter bamboo food stalls and pop-up bars around Australia's only truly tropical capital city. Feast with locals and visitors along long communal tables in Festival Park, indulging in Asian cuisine at one of the many outdoor events.
Darwin Festival
The 13th Darwin Aboriginal Art Fair
Darwin, 9-11 August 2019
From the territory which gave the world Australia's most acclaimed Aboriginal artists such as Albert Namatjira, Turkey Tolson Tjupurrula and Clifford Possum Tjapaltjarri, the 13th Darwin Aboriginal Art Fair provides a rare opportunity for visitors to purchase art directly from more than 60 Aboriginal and Torres Strait Islander-owned and incorporated Art Centres. The Darwin Convention Centre hosts this fair which collectively represents more than 2,000 emerging and established artists in what is believed to be the biggest event of its kind in Australia. Visitors are presented with the chance to ethically purchase art including paintings on canvas and bark, works on paper including limited-edition prints, sculptures, didgeridoos, fibre art and other cultural regalia. Traditional dance and free artist workshops add the final flourish to this fair.
The 13th Darwin Aboriginal Art Fair
Run Larapinta Stage Race
Alice Springs, 16-19 August 2019
Why walk when you can run along one of the country's best and most popular tracks? The Larapinta Trail, which snakes for 223 kilometres along the Tjoritja/West MacDonnell Ranges in Central Australia, arguably serves up the best of Australian Outback scenery. Run Larapinta snatches the highlights and funnels them
into a four-day, four-stage race, serving up boundless beauty and breathless exuberance along the way. There are two options to choose from: The Malbunka (long course), which sees runners complete between 20 and 45 kilometres each day; or The Namatjira (short course), whose daily stages are slightly smaller at between 10 and 30 kilometres. Regardless of distance, all competitors will be treated to stunning sights including Standley Chasm; Ormiston Gorge and Glen Helen.
Run Larapinta Stage Race
Rotary Henley on Todd Regatta
Alice Springs, 17 August 2019
Alice Springs is home to the world's only land regatta and Australia's oldest regatta, staging the Rotary Henley on Todd since 1962. A medley of land-based boat races, attracting everything from home-made dinghies to pirate ships, competitors race along the bone-dry Todd River bed. But the fun doesn't end there. Expect Budgie-Smuggler Races, Anchor the Boat Tug-of-Wars and of course, The Battle of the Boats.
Rotary Henley on Todd Regatta
The Redback
Alice Springs, 22-25 August 2019
The Redback is a four-day, six-stage race through the Red Centre starting at Alice Springs, which boasts kilometres of hand-built single tracks designed specifically for mountain bikers. Kicking things off is a brand-new Stage One course, a cross country race. Stage Two climbs 300 metres to Anzac Hill, followed by time trials, night racing and a sprint to finish at the Mercure Alice Springs Resort.
The Redback
To plan your Northern Territory adventure visit:
northernterritory.com.