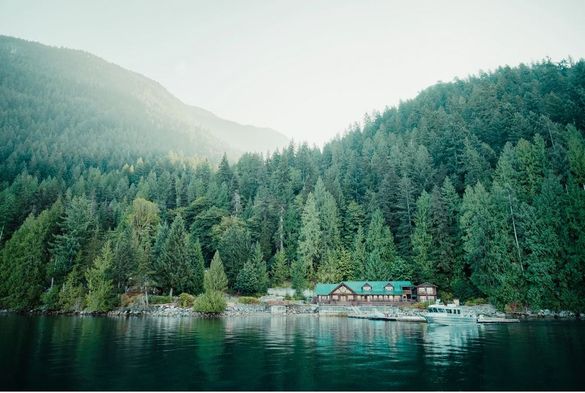 From wilderness resorts to meaningful Indigenous immersions, Canada's newest tourism offerings reflect the nation's commitment to travel as a force for good. Read on to discover eight new adventures you can only have in Canada:
Klahoose Wilderness Resort, Desolation Sound, British Columbia
Accessible only by boat or seaplane, Klahoose Wilderness Resort is British Columbia's newest Indigenous owned and operated resort, embracing the natural and supernatural spirits of the land and its people, offering an immersive exploration into this pristine region rich in diverse wilderness and cultural significance. Toba Inlet wildlife tours including spring bear viewing and late summer/autumn grizzly bear salmon run tours led by Indigenous guides. Open seasonally from May 11 to October 20, 2023.
Métis Crossing, Alberta
Métis Crossing in Smokey Lake, Alberta, is the province's first major Métis cultural interpretive destination, offering guests guided cultural interpretive experiences, sharing the distinct Indigenous story of the Métis people in an interactive way, with signature experiences that change with the seasons. Embark on a guided wildlife tour, Visions, Hopes and Dreams for an up-close encounter with white bison, wood bison, plains bison, elk, and Percheron horses.
Lazy Bear Expeditions Matonabee, Churchill, Manitoba
Renowned for its subarctic adventures in Canada's remote Churchill, Lazy Bear Expeditions is set to provide next-level experiences for visitors with the launch of the Matonabee in August 2023, a 23-metre catamaran and the only cruise ship able to take tourists along the western coast of Hudson Bay. With the unique ability to deploy rigid inflatable boats (zodiacs) for deep exploration of remote areas of Hudson Bay, the Matonabee will provide unforgettable beluga whale, polar bear and bearded seal viewing opportunities during the Canadian summer months.
Tutchone Tours, Yukon Territory
With 2023 marking the 125th anniversary of the legendary Klondike Gold Rush, there's never been a better time for history buffs to discover the Yukon's gold rush and First Nation history. Embark on a full-day river boat tour form Minto Landing to Fort Selkirk with Tutchone Tours, including a guided tour of the township, wildlife encounters, and an Indigenous beading class. Listen to the stories of the Northern Tutchone people and visit an Indigenous-owned fish camp.
The Leaf – Canada's Diversity Gardens, Winnipeg, Manitoba
Touted to be the most significant horticultural development undertaken in Canada in the past 25 years, The Leaf – Canada's Diversity Gardens opened in late 2022 in Winnipeg, the capital city of Manitoba, as part of the he Assiniboine Park Conservancy. Resplendent with innovative horticulture, mosaics of colour and fragrance, exotic plants and balmy environments, visitors to the ever-changing gardens will explore themes of sustainability and conservation, beauty and expression, and spirituality and consciousness. Featuring stunning architecture and state-of-the-art design, The Leaf will invite visitors to explore four unique indoor plant biomes.
Indigenous Niagara Living Museum Tours, Niagara Falls, Ontario
Experience the mighty Falls from the Indigenous point of view with Indigenous Niagara Living Museum Tours. The Niagara region's first guided Indigenous tours feature animated encounters and engagements with Indigenous peoples, cultural interpreters, historians, food specialists, and artisans. The deep and compelling Indigenous history and culture of the Niagara Region serves as the foundation for authentic tours of important Indigenous destinations known for their historical and cultural significance to Indigenous peoples, including Niagara Falls itself!
Ride Solar, Prince Edward Island
Ride Solar in 2023 in the Charlottetown harbour of picturesque Prince Edward Island, one of Canada's eastern Maritime provinces. This fully electric solar powered vessel offers stunning breakfast, lunch and evening dinner cruises featuring a menu created with locally sourced ingredients. Admire the green spaces, red soil and rolling hills of Prince Edward Island's south shore while indulging in a beautifully crafted local meal.
North Star Adventures, Northwest Territory
Journey through Our Dene Journey: Past, Present & Future with North Star Adventures in Yellowknife, Northwest Territories. Connect with Indigenous communities, meet with community leaders, respected elders, knowledge keepers and residents and hear their stories. This summer package, offered from June to September, includes accommodation, meetings with Dene elders, a road trip on Mackenzie Highway, traditional Indigenous cuisine, and an incredible day trip to Nahanni National Park for a traditional cookout dinner with a Dene family.
Getting there
Air Canada offers daily direct flights to Vancouver from Sydney, and direct to and from Brisbane four times per week. Direct flights from Sydney to Vancouver are also available on Qantas. Internal flights are available throughout Canada from all major cities, in addition to the VIA Rail train service.
For the latest information on travel to Canada please visit the Government of Canada website.