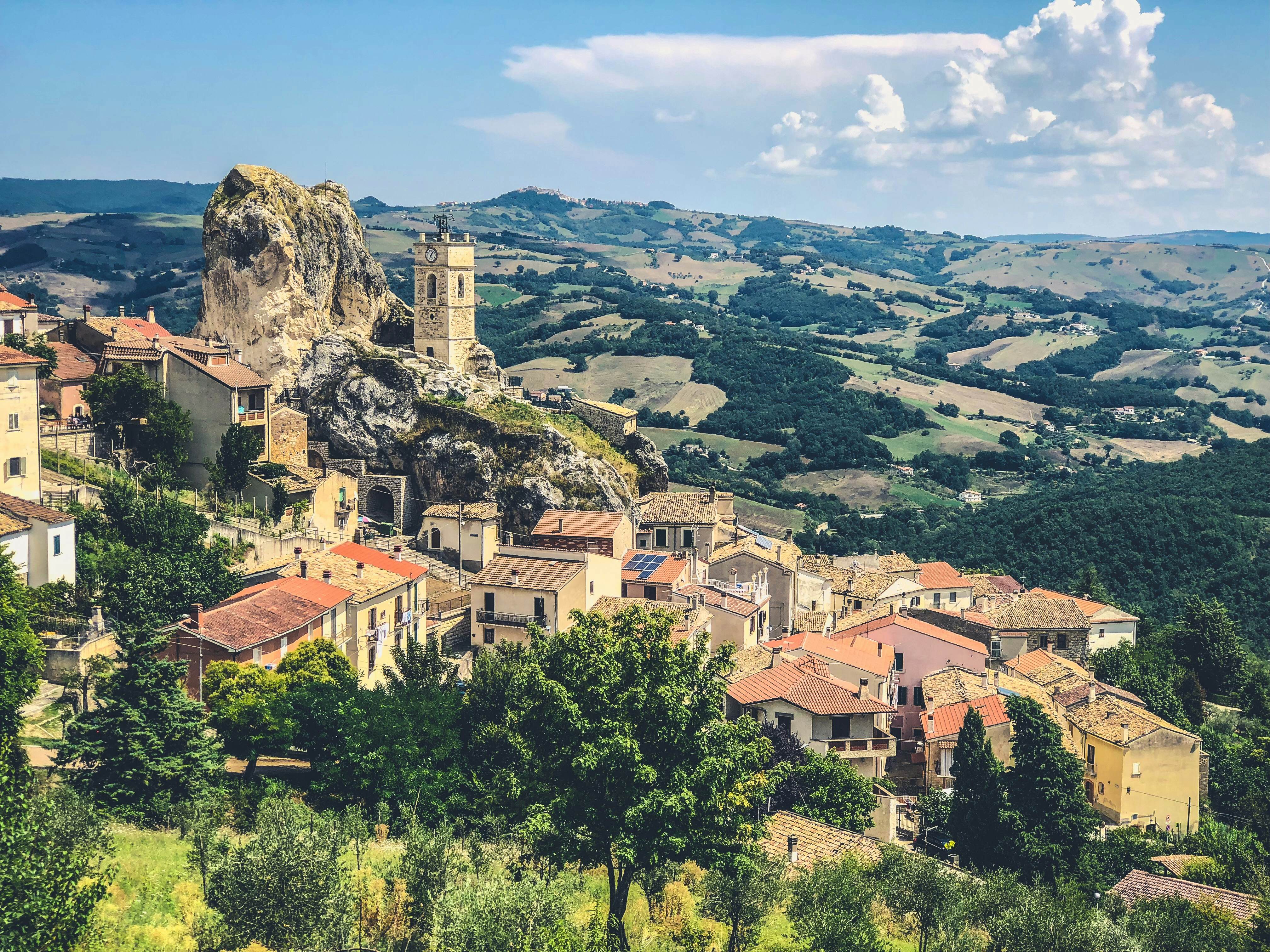 Hands up anyone who has ever been to Molise? Can you name the region's capital? Do you even know where it is? If you don't, you are not alone. Even the Italians struggle a bit - there is a standing joke that Molise non esiste (Molise doesn't exist). But, of course, it does and it is a beautiful part of the world, I have to say.
The region's 'problem' seems to be that it doesn't have any 'iconic' sites: no 'art cities', no internationally renowned tourist destinations and it is sadly overshadowed by its neighbours: Puglia with its sea to the south, Abruzzo with its mountains to the north and Campania and Lazio with their antiquities to the west. But this does not mean that Molise doesn't have a lot to offer. It does and we thought that its very anonymity was an excellent reason to go there.
In June, my wife and I did a meandering, unplanned, two-week drive down the Apennine range, the 'spine' of the Italian peninsula. We started in L'Aquila (Abruzzo) and finished on the coast of Calabria. After a few pleasant days in Santo Stefano di Sessansio, we headed south, driving through the spectacular Majella National Park, past the ski towns of Roccaraso and Castel di Sangro, and then over the border and into Molise. It was a beautiful drive through green valleys with beech covered mountains on either side.
Molise has two parts, Basso (or lower) Molise, which includes the coastal strip and the plains and hills behind this, and Alto (or higher) Molise, the mountainous internal part of the region. We were aiming for Alto Molise, but actually we ended up in Altissimo (very high) Molise in a gorgeous town called Agnone. We finished up there by chance. I had found some promising accommodation in Agnone but there were no rooms available, so I booked an agriturismo nearby. This agriturismo was the first of many surprises we discovered in this extraordinary little pocket of southern Italy, well worth a weekend or more.
How to get there:
By car: You will definitely need your own car for this adventure. Take the A1 from Rome. Take the S. Vittore exit for Isernia. Go through Isernia and continue on the SS 650 Fondovalle Trigno in the direction to Vasto. Take the turn off to Pescolancio on the SP651 and then follow the signs to Agnone. By air: the nearest airport is Pescara, 115 kilomteres away.
Where to stay:
Masseria Santa Lucia (Contrada Fonte Sambuco 23°, Agnone;
https://santaluciaagnone.com
). Masseria Santa Lucia is beautifully restored country house in the rolling hills south of Agone. It has four very comfortable apartments, extensive grounds and a swimming pool. Meals are served in the tavern suing the family's own produce, olive oil and wine.
Borgo San Pietro (Centro storico, Agnone;
https://santaluciaagnone.com
). The Borgo San Pietro is an 'albergo diffuso', five very comfortable apartments in the historic centre of Agnone. They are owned and operated by the same family as the Masseria Santa Lucia.
B&B La Campana (Vico Polito 15, Agnone;
www.locandalacampana.com
). This B&B offers cosy, attentively restored accommodation in the centre of Agnone. Each of the bedrooms has its own bathroom. One has a fireplace.
Where to eat:
Terra Mia (Piazza Plebiscito 4, Agnone, +39 0865 778 43). This family-run trattoria is in the heart of the historic centre of Agone and specialises in hearty home cooking. Its signature dishes are the fried baccala (salted cod) ravioli and its grilled meats. It also has an excellent selection of local cheeses.
Locanda Mammi (Contrada Castelnuovo, 86, Agnone;
www.locandamammi.it
). A short drive out of town, this sophisticated restaurant was one of the great surprises of this 'remote' area. Using local produce, chef Stefania di Pasquo creates delicious food that is curated to the smallest detail. We can highly recommend the reasonably priced 'degustation' menu (we went back for a second night!). There is also accommodation available.
Ristorante L'Elfo (Via Campanelli, Capracotta;
www.ristorantelelfo.it
). One of the highest towns in Molise, Capracotta is well worth a visit in summer or winter. This welcoming trattoria serves traditional meals with a modern (ie lighter) twist. Dishes may include tagliolini with truffles, tagliatelle with wild boar ragu and sliced sirloin beef with pecorino cheese and berry sauce.
What to do?
Friday evening:
Check in to your accommodation, enjoy the passeggiata and perhaps an aperitivo at the Café Letterario in Piazza Plebiscito, then an early night, ready to go exploring.
Saturday morning: visit Agnone
Agnone is a town of around five thousand people. It is an ancient town in the mountains of Alto Molise, whose origins go back to the Sannite city of Aquilonia, which was conquered by the Romans in the 3rd century BC.
In 1139 the powerful Borrello family brought to the city a large number of Venetian soldiers and craftsmen, who greatly influenced its life and economy. Signs of Venetian culture can still be seen in Ripa, the oldest part of Agnone, which is still known as the 'Venetian village'.
Saturday is market day so it's a good time to visit the town. Agnone is on a ridge and its long main street, Via Marconi/Via Roma, is abuzz with shoppers and strollers. The morning we were there, there was a wedding, the street was crowded with beeping cars and the happy couple took a horse and carriage ride down the main street, waving at the passersby and stopping for a glass of champagne outside one the bars. There are two very good pastry shops with outdoor tables, perfect for a coffee: Gerri's Pasticceria and Dolciaria Labbate Mazziotta (
https://labbatemazziotta.it
).
The star turn of the town, however, and another of the great surprise of this area, is the Marinelli Bell Foundry, which is in the heart of the town (
http://campanemarinelli.com/en
). I know, it sounds a bit droll, but this company has been casting bronze church bells with the same technique (lost wax) at least since 1339, when Nicodemus Marinelli is recorded as casting a 200-kilo bronze bell for a church in Frosinate, but it was presumably operating several centuries before this. The truly amazing thing about the company though, is that it has been continuously in the hands of the same family at least since the days of Nicodemus. Pasquale Marinelli (61) and his brother Armando (51) are the 26th generation of this enterprise and Pasquale's 31-year-old son is also in the business!
The company employs fifteen people and produces around one hundred bells per year. Their bells can be found in St Peters at the Vatican, on the Tower of Pisa, at Lourdes, in the Kremlin and in the United Nations building in New York. They have regular tours of the site, which take around an hour led by the company's 84-year-old bellmaster. It is strangely fascinating, and I would highly recommend it.
Saturday afternoon.
Agnone, like most of Molise, has been inhabited for a very long time. In 2014 a child's tooth was found during excavations near Isernia, twenty kilometres from Agone.
It was dated to be over 600,000 years old. It is the oldest human remain found in Italy and is on display at the National Paleolithic Museum in Isernia.
Around the 8th century BC, Molise was occupied by the Sannites, an Italic people who originally migrated from the Balkans. In 305 BC they were subjugated by the Romans. Fortunately, many relics of the pre-Roman age have survived.
The most celebrated is the Santuario Sannite, which have was excavated near the town of Pietrabbonante, a twenty-minute drive from Agnone (
www.youtube.com/watch?v=MIardCSxdEI&t=7s
).
This beautifully preserved temple-theatre complex was built into the side of Monte Saraceno (1000 mts asl) and has sweeping vistas out over the Trigno Valley. Narrow alleys of cyclopean stone walls lead to the impressive remains of the temple and then down to the semi-circular theatre has been intricately carved, with images of Atlas and griffins, the ergonomically carved limestone seating the prefect place to enjoy the views. When we visited, we were the only people there.

Sunday morning: hiking
Capracotta is a small village (population 841) perched at the highest point of the Trigno valley, 1421 mts asl. It is a winding thirty-minute drive from Agnone. Capracotta it is a cute town, sitting on a treeless ridge with one very long, paved, pedestrian-only main street at the foot of Monte Campo. In winter, Capracotta becomes a ski town, the second most popular in Molise. Although it has one ski-lift and one chairlift, Capracotta is best known for cross-country skiing. On March 5, 2015, the town made headlines around the world when 2.56 metres of snow fell in the hamlet over 24 hours, the heaviest snowfall ever recorded (as noted in the Giuness Book of Records).
In the warmer months, the cross country routes convert to hiking trails and Caprarotta offers some spectacular walks. They are well marked and well-plotted: The Capracotta council has an excellent website with detailed information on this and many other walks (shorter and longer) in the area:
https://capracotta.com/capracotta-lo-sport/capracotta-sentieri/
.
The most practical route for a day-tripper, and one of the most inviting is 'Sentiero 310', a loop walk that starts and finishes in Capracotta. The trail follows a long ridge out of town and has spectacular views down over the valley and the neighbouring mountains. It is 15 kms long, has a total ascent of 478 metres, and should take around 4.5 hours. You can download a map from the Capracotta website. It is probably best to take a picnic lunch with you but you should also try to schedule a meal, lunch or dinner, at the town's excellent Ristorante L'Elfo.
Sunday afternoon: horse riding and/or canoeing
Staffoli is a short drive down the valley from Agnone. It is the only piece of open and flat land in the Alto Molise. Here, Staffoli Horses, a full-blown ranch (with an agriturismo that offers very comfortable bed and breakfast accommodation) that has fully embraced the dream of the American Far West. It has a swimming pool and hiking trails but the main attraction, of course, are the accompanied horse rides across the beautiful plains (20 euro per horse per hour, ponies 3 euro per hour). Afterwards, you can enjoy a slap-up meal at the Wild Horse Saloon Steakhouse (
www.staffoli.it
).
Castel del Giudice is a thirty-kilometre drive from Agnone. It overlooks the Sangro River, which forms the border between Molise and Abruzzo. In recent years this river has become very popular with the lovers of rafting. Sangro Outdoor Experience organises a range of activities on the river, including rafting, canoeing, kayaking, trips down the river on inflatables, as well as escorted hikes in the surrounding mountains (
www.sangroexperience.com
).