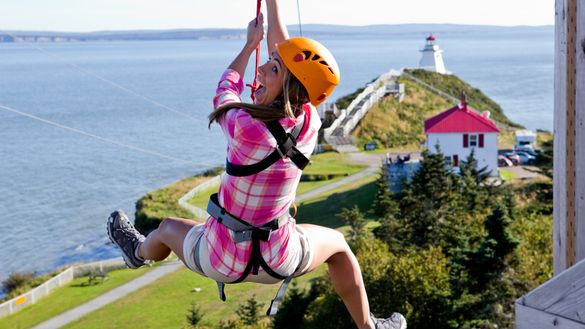 With Australian visitation to Canada rising exponentially each year, more Aussies than ever are expected to make 2018 the year they explore this diverse North American country. Read on for our top ten tips for planning bucket-list adventures in Canada this year.
Don't be fooled by unauthorised websites when you apply for your electronic Travel Authorisation (eTA). Use the official website to register for an eTA at a cost of $7 CAD. Beware of 'scam' websites charging up to $122 USD for the application. Australian citizens require an electronic Travel Authorisation (eTA) before flying to Canada.
Peak tourist months in Canada are July and August, when flights and accommodation are more expensive. Consider travelling outside peak season during autumn for spectacular foliage in Quebec and the Atlantic provinces, or winter and early spring for the ultimate winter wonderland.
Heading to Whistler? Make sure you experience the epic Peak 2 Peak Gondola and the new Peak Suspension Bridge, the tallest in North America, for mind-blowing panoramic views in every season. If you're there during winter, spend a day skiing or snowboarding with an Olympian, learning expert techniques, and hearing their stories of success.
Head to the Maritime province of New Brunswick to witness the highest tides in the world at the incredible Bay of Fundy. Walk the ocean floor during low tide at the Hopewell Rocks or abseil down cliffs into the bay at Cape Enrage. Jump on a zodiac with Red Rock Adventure for a memorable Fundy Trail Tour, where you'll explore the longest stretch of coastal wilderness on the eastern seaboard, meeting seals and porpoises along the way.
For a true 'bragging rights' experience, road trippers can now drive the road made famous through the Ice Road Truckers television series. The 137-kilometre Tuktoyaktuk Winter Road, two hours from Inuvik in Canada's Northwest Territories, forms part of the famous Dempster Highway, allowing travellers to drive all the way from Whitehorse, in Yukon Territory, to the Arctic Circle in Northwest Territories on a sealed bitumen road, rather than sheets of ice!
Discover Banff Tours is now offering small group tours taking travellers from Vancouver to Banff and vice versa. This is a great option for those who catch the Rocky Mountaineer one way and would prefer to drive back rather than fly. It's also ideal for those wishing to explore the Rockies by road. The tour includes lunch in Revelstoke and accommodation at the Plaza Hotel in Kamloops.
Who wants to stay in a conventional hotel when you can bed down in a house boat? From May 2018, visitors to Canada's capital city of Ottawa in Ontario can cruise the Rideau Canal on a state-of-the-art Horizon cruiser by Le Boat. Glide effortlessly through the charming downtown precinct, enjoying tranquil views of Parliament Hill the rolling green banks.
EdgeWalk at the CN Tower in Toronto holds the Guinness World Record for the "Highest External Walk on a Building" at 116 storeys high. This is an epic bucket-list attraction for thrill-seekers.
Visiting the east coast during summer? Get to know the salt-of-the-earth characters of Newfoundland and Labrador during the George Street Festivalfrom 26 July - 1 August 2018. George Street has been a magnet for musicians for decades and is famous for comprising two blocks of bars, pubs, restaurants – and nothing else.
If you're travelling to the US east coast, consider a road trip to Quebec. Make the 500-kilometre journey from Boston to Montreal via the picturesque Eastern Townships for an authentic French-Canadian experience. We're talking sparkling lakes, wineries, and chocolatiers, where the welcoming locals speak their native French.
GETTING THERE
Air Canada offers daily direct flights to Vancouver from Sydney and Brisbane. Additionally, Air Canada will commence year-round direct flights from Melbourne to Vancouver from June 2018. Direct flights from Sydney to Vancouver are also available on Qantas.
www.keepexploring.com.au