Australian travellers are making the most of early bird specials to experience Canada's untamed wilderness from December to March, when it transforms into a quintessential winter wonderland.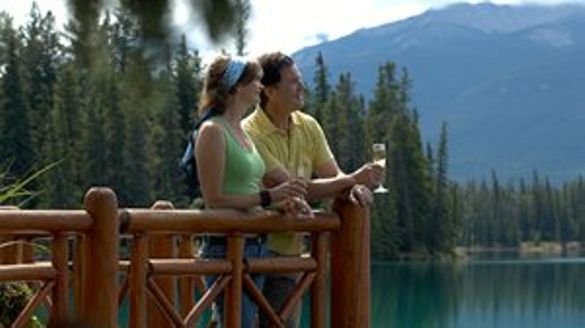 Read on for five of Canada's best winter lodges, offering an idyllic, immersive experience, from wildlife encounters and outdoor adventures, to log fires, charming villages and fine dining.
Blachford Lake Lodge, Northwest Territories
Fly on a bush plane – equipped with skis in winter– and land alongside Blachford Lake Lodge, an oasis of rustic luxury in the Northwest Territories' wilderness near Yellowknife. Skate on the frozen lake, mush huskies, stomp off on snowshoes or hop on a snowmobile and experience the wide-open northern backcountry. Sit down to fresh, local cuisine like bison and pike, then slip into the hot tub and watch curtains of colourful northern lights shimmer and loop across the horizon like fireworks on a cosmic scale.
Fairmont Jasper Park Lodge, Alberta
Bedding down in a remote wilderness lodge doesn't mean you need to rough it. The Fairmont Jasper Park Lodge maintains its 1920s appeal, with its cozy communal lounge area and cedar chalets, and combines it with award-winning cuisine, a luxury spa and all the trimmings you'd expect at a prestige Fairmont resort. Wrapping around the shores of pristine Lac Beauvert in Jasper National Park, you're spoilt for choice when it comes to epic winter adventures. Ice skate on the lake, go cross-country or downhill skiing, or simply stroll the snow-covered forest and say hello to the elk, goats, big-horned sheep, wolves, and moose, who call this beautiful place home.
Tagish Wilderness Lodge, Yukon Territory
Tagish Wilderness Lodge in Yukon Territory in north-west Canada, is an authentic wilderness retreat. With no road access, you'll arrive by dog sled or ski plane and be treated to crackling campfires, howling wolves, winter adventures and, of course, the unforgettable aurora borealis. Learn how to mush your very own team of sled dogs, witness the magnificent northern lights, try your luck at ice fishing, relax in the herbal sauna, or just curl up with a book by the wood-burning stove. It's your very own magical Narnia.
Nanuk Polar Bear Lodge, Manitoba
The sheer remoteness of Nanuk Polar Bear Lodge in Canada's central province of Manitoba means you'll be treated to some of the most pristine wilderness in the world. Strategically located on the Hudson Bay in close proximity to polar bear dens, and directly under the aurora oval, it's one of the only places on Earth where you can encounter polar bears and other Arctic animals by day, and unobstructed views of the shimmering northern lights at night.
Featured in the prestigious National Geographic Unique Lodges of the World, Nanuk Polar Bear Lodge serves up the ultimate winter wilderness experience, with large picture windows overlooking the coast and passing wildlife, as well as incredible food, prepared from the lodge's famous cook book series, Blueberries & Polar Bears.
Skoki Lodge, Alberta
High in the alpines of Banff National Park, at the end of an eleven-kilometre trail from Lake Louise, Skoki Lodge is the gateway to breathtaking mountain ridges, valleys and crystal lakes. This backcountry Lodge is only accessible by hiking or skiing and has a true back-to-nature mentality. Just ask Prince William and Kate, Duchess of Cambridge, who stayed at the rustic lodge in 2011. Chef, Katie Mitzel, hovers over the wood-fired creating gastronomical masterpieces from local ingredients and seasonal fare. Think seafood chowder, Alberta beef, Canmore coffee, cheese and wine.
GETTING THERE
Air Canada offers daily direct flights to Vancouver from Sydney and Brisbane, with direct flights from Melbourne available three times per week. Year-round direct flights from Melbourne to Vancouver are also available, with connecting flights to the eastern provinces. Direct flights from Sydney to Vancouver are also available on Qantas.
www.keepexploring.com.au