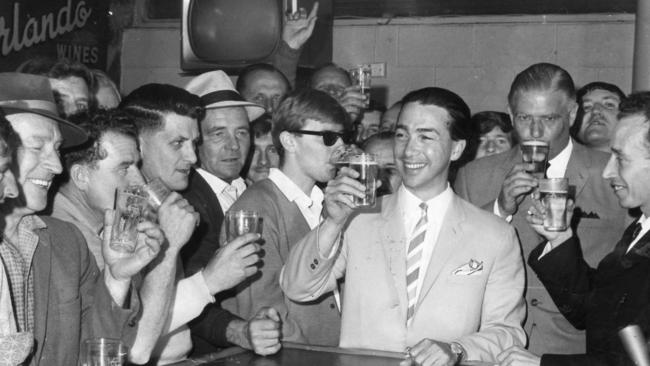 A volunteer at the Magill RSL was in the crosshairs of prosecutors in 1947 for an offence that, these days, we would see as innocuous on a Friday night.
South Australian newspaper "The News' reported at the time that Roy Butler of Rostrevor was caught selling 'sly grog' to undercover police officers at 8.30pm.
sly grog was a term used to describe alcohol that was being sold illegally and in secret.
"Mr A. S. Blackburn, State president of the R.S.L., stated that the most rigid steps were being taken by the league to prevent sly-grog at the various sub-branches," the reporter said.
"Roy Butler, 22, driver, of Glen Stewart road. Rostrevor, for whom he entered a plea of guilty to a charge of having on June 20 unlawfully sold liquor to Ralph Mansfield Tremethick at the Magill sub-branch of the R.S.L. at Magill Road, Magill.
Plainclothes Constables Tremethick and O'Neil entered the premises of the Magill sub-branch by the back door and went into the bar room, where Butler was drawing beer from a 10-gallon keg.
This was a criminal offence at the time due to South Australia's strict alcohol licensing laws - which said pubs must close at 6pm.
The law was brought in due to pressure exerted by the temperance movements of the time who argued that an earlier closing time would lead to fewer instances of domestic violence and public intoxication.
The lockout laws, which were in place from 1915 until 1967, were proven unsuccessful in the long term. While reports of alcohol-related violence decreased in the months following the implementation of the law, the early closing times lead to the notorious 6 o'clock swill'
The 6 o'clock swill referenced the hour between 5 and 6pm. where punters would hit the pubs after work and drink as much as they could before stumbling out to the street at closing time.
Instead of encouraging South Australians to be more responsible, the early lockout times would encourage heavy binge drinking that saw the drinkers spill onto the streets all at once.
The law would remain in place until SA Premier Don Dunstan championed changes to the state's liquor licensing laws in 1967. Don reportedly raised a glass at one minute past 6pm to commemorate the change of the law.
by Harrison Davies, The Adelaide East Herald. Pic: The Advertiser