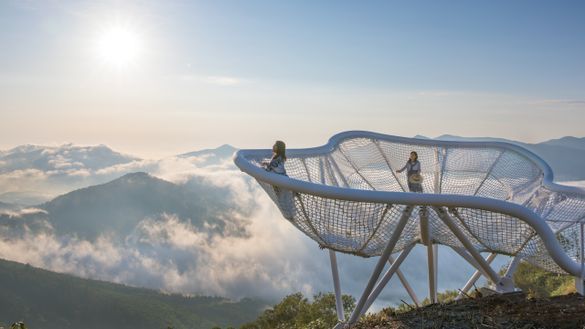 Autumn presents itself as an optimal time to see a different side of Japan as nature and locals prepare for the winter ahead. Here are five autumn experiences that will make a trip to Hokkaido an unforgettable one.
"Fall" in love with Hokkaido's autumn foliage
The beautiful red leaves known as "Momiji" are a natural phenomenon that occur when temperatures drop after a hot summer. Hokkaido's magnificent fall foliage can be seen as early as late August. Beautiful trees in vibrant shades of yellow, orange, red and brown make for a stunning backdrop across Japan's northern island including mountains, national parks, river banks and streets.
Witness a "sea of clouds"
Unkai is a sea of clouds that can be seen from places of high elevation. It is one of mother nature's greatest spectacles which emerges under certain temperature conditions in the early morning. It is a sight to behold as the clouds form a blanket-like cover over mountains resembling that of an ocean. Although quite rare to see, one of the best places in Japan to see Unkai is at Hoshino Resorts TOMAMU's UNKAI Terrace between May and October.
Enjoy the fruits of your labour
Autumn marks the season of harvest so why not go on a food-filled adventure! Being the agricultural heart of Japan, Hokkaido lends itself to a variety of activities for you to brush up on your farming skills and learn a thing or two. Pick fresh peaches, grapes and apples straight from the orchard, learn how to make ice cream and butter or catch a fish to eat! There are plenty of unique experiences to try delicious, seasonal foods straight from the farm and sea.
Eat and then eat some more
Located in Odori Park, The Sapporo Autumn Festival is Hokkaido's largest food festival that takes place in September. A foodie's paradise, you can "spam your gram" with tons of pics and videos as you make your way through the market trying some of the best local delicacies like Asahikawa ramen, seared scallops, ishikari nabe, yubari melon and of course Hokkaido's famous soft serve ice cream made from fresh milk.
Wake up and smell the roses
There are many flower farms that grace the fields of Hokkaido's countryside. Making a trip in autumn doesn't mean you miss out on seeing picturesque colourful rows of flowers, in fact there are a variety of gardens that bloom right up until the first frost. A visit to Farm Tomita in the late autumn will show the backdrop of flower fields against the snow-capped Tokachi Mountains beyond the valley. What's more is that they have a café serving lavender ice cream!
You can enjoy all of these autumn experiences and more when you stay in Tomamu. Located in the center of Hokkaido,
Hoshino Resorts
TOMAMU is the perfect place to base yourself and is conveniently accessible from New Chitose (Sapporo), Asahikawa and Obihiro airports.